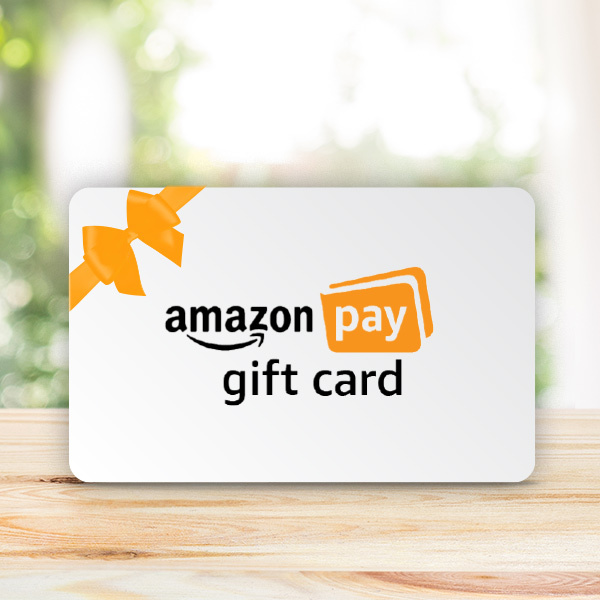 InterMiles Raffle − Amazon Pay Balance worth INR 50,000
Be the lucky one to win Amazon.in Pay Balance worth INR 50,000

Amazon Gift Cards can be seamlessly converted to Amazon Pay balance. Now customers can use their Amazon pay balance to shop across 10cr+ products on Amazon, recharge their mobile numbers & purchase vouchers of 150+ brands on Amazon.
The raffle winner will get voucher codes that earns them a balance worth INR 50,000
The Amazon Pay Gift Card will be delivered to the winner by email and will contain a voucher code
No physical voucher or gift card will be couriered or required
The voucher code can only be redeemed online at www.amazon.in
The Amazon Pay Gift Card will be valid for six (6) months from the date of issue
Rules & Restrictions
Amazon Gift Cards ("GCs") are issued by the Qwikcilver Solutions Private Limited ("Qwikcilver"). Credit and Debit Cards issued outside India cannot be used to purchase Amazon.in Gift Cards.
To add your GC to your Amazon Pay balance, visit www.amazon.in
A beneficiary can apply the 14-digit code (under scratch card) on www.amazon.in and add the gift card balance in his/her Amazon.in account. This balance gets automatically applied at the time of the next purchase. There is no cap on a number of gift cards that can be added to an account.
Amazon Pay balance is a sum of all balances associated with the Gift Cardsin your Amazon.in account.
Amazon Pay balance is redeemable across all products on Amazon.in except apps, certain global store products, and other Amazon.in gift cards.
Amazon Pay balance must be used only towards the purchase of eligible products on Amazon.in
The Gift Cards, including any unused Amazon Pay balance, expire one year from the date of issue of the GC.
Gift Cards cannot be transferred for value or redeemed for the cash.
Qwikcilver, Amazon Seller Service Private Limited ("Amazon") or their affiliates are not responsible if a GC is lost, stolen, destroyed or used without permission.
For Complete terms and conditions, see www.amazon.in/giftcardtnc
Amazon.in logo/trademark is an IP of Amazon or its affiliates and the Qwikcilver trademark/logo is an IP of Qwikcilver.
To redeem your GC, visit www.amazon.in/addgiftcard
For any help on how to use the Gift Card, please call on 1800 3000 9009.
These Terms and Conditions shall govern your participation in the InterMiles Raffle ("Contest"). By participating in the competition, you agree to be bound by all the terms and conditions mentioned below.
This Contest is only open to Members of the InterMiles Programme. It shall remain open for participation from 1st August 2020 to 31st August 2020 (midnight IST).
Members may redeem Raffle ticket(s) using InterMiles earned by purchasing products and/or services under the InterMiles Programme. It is expressly clarified that those InterMiles purchased in lieu of cash directly from InterMiles.com cannot be used for redeeming Raffle tickets.
Once you have redeemed your Raffle ticket(s), the InterMiles will be taken from your account and an email containing your ticket numbers will be sent to you.
Raffle tickets are electronic and will not be mailed physically.
Your raffle ticket numbers will be mentioned in your Raffle Confirmation email as well as under My transactions in the My account section (login required).
InterMiles redeemed for the Raffle tickets are non-refundable.
Members residing in India only can participate in this Raffle.
Members who are residents of the state of 

Tamil Nadu

 and in such other states where lottery is prohibited by law, shall not be eligible to take part in this Contest.
This competition is not open to employees of InterMiles and its affiliates.
In case of termination of participation in the raffle for any reason (including but not limited to technical errors, cancellation of raffle etc.) a Member is only eligible to recover the Miles that are redeemed against tickets for the specific raffle.

One (1) lucky winner

 selected by draw of lots will be gifted Amazon.in Pay Gift Voucher INR 50,000
The winner will be notified via email. The winner should respond within 48 hours confirming willingness to accept the Prize; failing to which another winner will be selected by draw of lots.
The Raffle prize will be delivered to the winner's registered email address.
By entering this contest, the winner agrees to the use of his/her name and image in any publicity material. Any personal data relating to the winner or any other entrants will be used solely in accordance with current data protection legislation and will not be disclosed to a third party.
Disclaimer: Amazon.in as company and brand has no role to play in this raffle.
You may receive multiple codes, however, its total valuation should be as per the confirmed prize value.
Once you have purchased your Raffle tickets, the InterMiles will be taken from your account and an email containing your ticket numbers will be sent to you.